Priority Crossfit – CrossFit
Warm-up
Warm-up (No Measure)
5 min aerobic work @ low effort
then
2 rounds

5 PVC pass thru

5 quadruped t-spine twist (per side)

8 banded good morning

10 kip swings
Metcon
Metcon (Time)
"The Legend"

4 Pistols

25 Kettlebell Swings 54/35 teens: 35/25

50 Push-Ups

75 Pull-Ups

50 Push-Ups

25 Kettlebell Swings 54/35 teens: 35/25

4 Pistols
Christopher Scott "Chris" Kyle (April 8, 1974 − February 2, 2013) was a United States Navy SEAL and the most lethal sniper in U.S. military history. Kyle served four tours in the Iraq War and was awarded several commendations for acts of heroism and meritorious service in combat. He received two Silver Star Medals, five Bronze Star Medals, one Navy and Marine Corps Commendation Medal, two Navy and Marine Corps Achievement Medals and numerous other unit and personal awards. Kyle was honorably discharged from the U.S. Navy in 2009. Chris was a devoted son, brother, husband and father in North Texas, as well as continuing his efforts to helping Veterans re-acclimate to civilian life and combat stress carried home. Kyle was shot dead at a shooting range near Chalk Mountain, Texas. His friend, Chad Littlefield, age 35, was also killed.
The 233 total reps in the workout represent Chris' Basic Underwater Demolition/SEAL (BUD/S) class #233.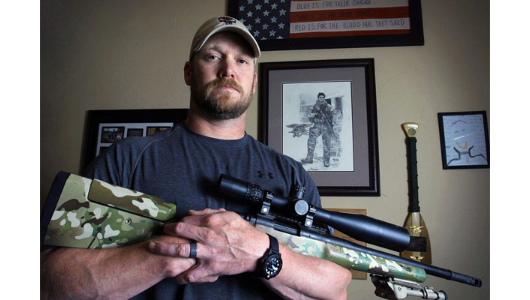 Mobility
Accumulate 2 minutes of each:
Box shoulder stretch

Half front split

Dragon pose